Moccasin History Minnetonka Moccasins, Shoes, Slippers & Hats

QUALITY: cut from only the best leathers
STYLE: crafted in the most popular, best selling styles
COMFORT: combining the best fitting qualities & long-lasting comfort
VALUE: the lowest possible cost for the highest possible quality
SERVICE: immediate shipment directly from Minnetonka's warehouse facility - SORRY, NO SHIPMENTS OUTSIDE U.S.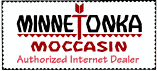 Moccasins and more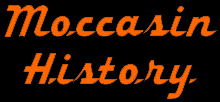 Native Americans made and wore moccasins long before foreigners immigrated to the land. Therefore, it is fair to call moccasins "America's first footwear." They represent a relaxed and comfortable lifestyle for whoever is wearing them.

Minnetonka Moccasin has shaped the moccasin's place in history for over six decades. From tourism and the growth of suburbia, Minnetonka moccasins were brought into many homes and made casual classics. Minnetonka products can be found around the world. All of our products are made with genuine "moccasin soul."

Classic design never grows old. Our moccasins have a natural, free-spirited heritage and continue to define casual and comfortable American style. If you have any questions or would like further information, please call us at (800) 474-9111.