Ride for Freedom

A group of Israeli cowboys will ride the Pacific Crest Trail this summer to publicize the 60th anniversary of Israel, the Middle East's only democracy. The Trail runs 2,650 miles through mountains, forests, and deserts from Canada to Mexico.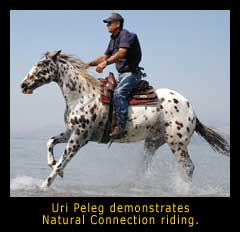 Dan Shaham, an official with the Israel Ministry of Foreign Affairs who will participate in the ride, says "All of us care very much about nature. We are not people with big SUV's; we're paying tribute to the communication between people in nature."
Popular horse trainer Uri Peleg will lead the group, using his "natural connection" riding style, which involves riding a horse without using reins or anything that controls the horse's head. Through body language, the legs and some verbal instructions, the horse is controlled.
Also this year, hundreds of motorcyclists from the U.S., Israel, Canada and Australia will participate in a cross-country ride across Israel.

"We want to salute the State of Israel, Israeli-Canadian biker Gideon Lee told the Israeli newspaper Yedioth Ahronoth. "Besides, we think Harley-Davidsons go very well with the scenery."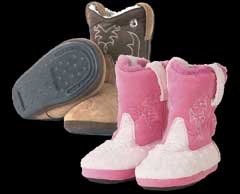 Cowboy Kickers are Back

Those plush, cushy boot slippers are now available again! Last November, Montana Silversmiths sold out of these lovelies within a few short weeks.

Was the rush on Cowboy Kickers related to the photos of Britney Spears wearing them? Nah, we doubt it. Our customers are too smart for this. In fact, please forget that we ever mentioned Ms. Spears in our newsletter ... we will forever deny it.