Landstrom's Sterling Silver Family Pendant 2is a Black Hills Gold necklace that will display 1 to 6 birthstones to represent different members of the family. Comes with a lifetime guarantee from the leader in Black Hills Gold jewelry, Landstrom's Black Hills Gold. Hand crafted to last a lifetime.

The stones in Landstrom's Sterling Silver Family Pendant are 3.0 millimeter genuine or synthetic birthstones. Sterling silver family pendant and 12 karat rose gold and green gold grape leaves. Arrives in an attractive white clamshell gift box. Ships in 10 working days or less.

Basic pricing shown is for one synthetic stone. Each additional synthetic stone is $8 and each additional genuine stone is $16. (Synthetic stones are not fake; they are chemically and physically identical to natural stones.)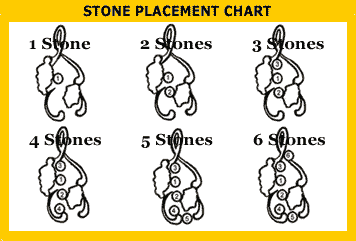 Stone types may not be mixed; please order only with all genuine stones or all synthetic stones. Call us if you need size 10 or larger.

Lifetime Guarantee: If there is a defect in materials or manufacturing, your mother's ring will be fixed or replaced by Landstrom's Black Hills Gold free of charge.